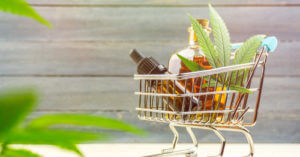 CBD is quite popular in the skin care sector not only as a cure for the typical symptoms of several skin disorders (for example psoriasis, eczema) but also as a suitable addition to our daily skin care routine. The cannabis compound has skin hydrating properties that help to lock moisture in our skin and keep it healthy.  CBD is also an antioxidant that can reduce the skin damage caused by the accumulation of free radicals.
In this article, we discuss some key tips that will help you in the selection of a CBD moisturizer.
Know Your Skin Type
Moisturizer is not really a single product. Instead, it's the name given for a category of products designed to keep your skin hydrated. The category includes creams, lotions and ointments. You simply cannot choose an ointment, cream or lotion at random.
Ointments are thicker than creams and lotions while cream is thicker than lotions. Among the three, lotions are the thinnest, as their major content is water. If your skin is very dry, you have to go for a CBD ointment to lock moisture in the skin. On the other hand, people with oily skin can choose CBD lotions or creams depending on how oily their skin is.
Test The Moisturizer For Allergies
Before you buy any skin care product, it is important to test it for any allergies by applying a small amount on your skin. If you notice any reaction after applying the cream, do not buy it. By studying the list of ingredients, you can find out if the CBD moisturizer has any ingredients you are allergic to.
If you are leading a vegan way of life, then beeswax is one ingredient that you will have to keep away from. It is a common ingredient in skin care products. Before you buy the CBD moisturizer, ensure that it does not contain beeswax.
Ensure That The CBD Moisturizer Is Certified By Third Party Labs
Third party lab certification is an important criterion that decides the authenticity and quality of CBD products. Reputed CBD manufacturers ensure that all of their products are tested and certified by trustworthy third party labs. Check the certification to get important information including cannabinoid percentages, CBD extraction method, and much more.
Full spectrum CBD products offer better results than the other spectrum options. You can choose full spectrum CBD moisturizers for the best results. See a list of the pros and cons of CBD cream here.