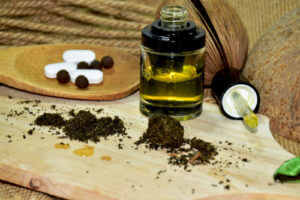 CBD topical products are used by people for relieving muscle and joint pains, headaches, healing minor wounds and burns, skin issues, and so on. CBD products are widely used by people because they are not psychotropic and have no side effects at normal doses.  Most cannabidiol users are doubtful about the instant pain relief of CBD ointments, and the purpose of this article is to clarify this doubt.
What Is CBD Ointment?
CBD ointment is a type of CBD topical that is applied to the skin on any part of the body for issues like muscle soreness, irritated skin, and inflammation. Since it is applied topically, it does not produce any psychoactive effects because CBD does not enter the bloodstream. Besides, its therapeutic effects make it a better alternative than OTC steroid creams, which have side effects when used very frequently.
Most CBD topicals available in the market are made using hemp plant strains that have less than 0.3% THC. Also, you need not worry about the psychotropic effects of THC as it does enter the bloodstream. Some of the top hemp plant strains used for making CBD ointments are ACDC, Harlequin, and Charlotte's web.
What Are The Uses Of CBD Ointment?
The anti-inflammatory, analgesic, vasodilatory, and cellular regeneration effects of cannabidiol (CBD) make it ideal for topical application. So, CBD ointment is used for treating a wide variety of health issues, and some of them are listed below:
Skin conditions like psoriasis, eczema, dermatitis, dry skin, fungal infections, rashes, blisters, etc.
Localized arthritis pain, joint pain, muscle soreness, inflammation, sprains, etc.
Chronic pain
Neuropathic pain due to sciatica and shingles
Pain due to multiple sclerosis
Migraines
Menstrual cramps
Muscle spasms
Hemorrhoids
Earaches
Faster healing of cuts, wounds, bruises, and scrapes
How To Apply CBD Ointment?
CBD ointment gives instant pain relief because it interacts with the cannabinoid receptors of the endocannabinoid system (ECS) on the skin. For this, cannabidiol (CBD) must be properly absorbed. So, before applying it to the affected area, you must first wash the area with soap and water. Now, you may apply and rub generous amounts of CBD ointment to the affected area and wait for it to be absorbed. This is required because the amount of cannabidiol absorbed will be less as the permeability of the skin is low.
To enjoy the maximum benefits, use a CBD topical manufactured by a reputed cannabidiol manufacturer.