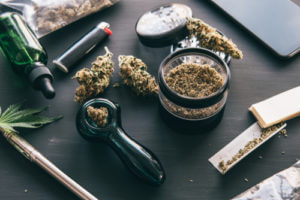 Both CBD and THC are phytocannabinoids present in the cannabis plant. It is found that there are more than 120 different cannabinoids present in this plant. Among them, CBD and THC are the most studied cannabinoids because of their abundance and health benefits they offer.
The use of both CBD and THC was controversial, as they are believed to create intoxicating effects because of their origin from the cannabis plants. However, CBD is found to be a non-psychoactive compound, so it will not result in intoxicating effects. Hence, the use of this compound was made legal in the US in the year 2018. However, THC still remains an illegal compound, as it can induce euphoric effects and lead to addiction in people.
Both CBD and THC are used in the healthcare industry for treating a variety of health conditions. Even though they provide a lot of similar health benefits, how they act in the human body is different. You can consume them individually or together for treating a wide range of health conditions including pain, sleeping disorders, etc. Researchers suggest that these compounds provide better results when they are consumed together rather than taking them individually. Hence, traces of THC in your CBD product can increase the benefits of CBD.
Why CBD And THC Work Better Together?
When CBD, THC, and other phytocannabinoids are present together, they can create an effect called the "entourage effect". Here, the effectiveness of different cannabinoids will be enhanced by the presence of other cannabinoids. Hence, you will get more benefits when compared to consuming CBD or THC alone. In addition to this, the presence of terpenes, which are other important compounds present in the cannabis plant, can enhance the effectiveness of CBD products. These compounds have their own health benefits. Also, they will able to enhance the properties of the cannabinoids.
Even though THC is a psychoactive compound that can result in euphoric effects, traces of this compound present in your CBD products will not result in such effects. In addition to this, CBD can be useful for reducing the unwanted effects of THC.
If you are looking for CBD products that have traces of THC in them, then you can go for full-spectrum CBD products that are derived from hemp plants. The hemp plant is another member of the cannabis family that has only 0.3% of THC. Hence, CBD products made from these plants are safe, as they cannot result in intoxicating effects. Also, it is possible for you to get products of CBD and THC alone. You can consume them together based on the dosage you need from each compound.
Both CBD and THC are phytocannabinoids present in cannabis and hemp plants. These compounds can offer a large number of health benefits when taken alone. But they will be more effective if they are consumed together. Hence, you can use them together for getting the maximum benefits from these compounds.