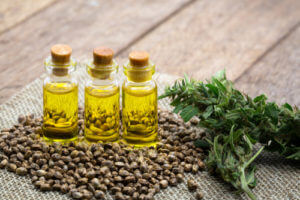 Migraine headache is a neurological disease that causes severe incapacitating headaches on one side of the head that lasts for hours and can wreak havoc on the person. The exact cause for it is unknown, so there is no known cure and it can last for a lifetime. Besides, most of the treatments available now focus on reducing the pain, and managing other discomforts associated with it. Most often, patients are prescribed pharmaceutical painkillers, and they are not a good choice because of adverse side effects. CBD pain relief using CBD oil is a good option because of its analgesic effect, read on to know more.
What Is CBD Oil?
Legally available CBD oil is made using extracts from hemp plant strains that have less than 0.3% of THC to ensure that it doesn't produce mind altering effects upon consumption. Also, some of the best products for pain relief available in the market are full-spectrum products, this means that it contains all the cannabinoids naturally found in the plant. But, if you don't want THC, then you can opt for broad-spectrum CBD oil, as THC will be completely removed from it. Moreover, they are popular because of the entourage effect which enhances the individual effect of each cannabinoid contained in them. This is especially useful for treating or managing chronic migraine headaches.
CBD Pain Relief From Migraine Headache
The analgesic effect of CBD is because it enhances the functioning of the endocannabinoid system (ECS). This is the system that regulates homeostatic functions like pain perception, core body temperature, digestion, metabolism, mood, sleep, immune response etc. Besides, it is equally popular for its anti-inflammatory effects. Clinical studies have shown that because of the combination of therapeutic effects of cannabidiol mentioned previously, CBD oil can ease migraine headaches and shorten the duration of its attacks. You must also be aware of the fact that cannabis products are used for treating chronic pain and headaches in most of the traditional eastern medical practices.
Research Results About CBD Pain Relief
The combination of CBD and THC in the ratio of 1:1 is found to be useful for managing chronic pain and this combination is used in the drug Sativex used for treating multiple sclerosis. A survey conducted in 2016 has shown that CBD reduced the frequency of migraine headaches per month in test subjects. It was also found to be a better option than pharmaceutical painkillers for long-term consumption.
Using CBD Oil For Migraine
CBD oil for migraine can be consumed orally in the form of pills or capsules and you can use CBD topical made using it as well. When you use CBD topical products for migraine headache relief, apply them on the back of the neck, on the shoulders, back, and on the temples. These are the location of occipital and trigeminal nerves, and their inflammation triggers migraine headaches.
When you consume CBD oil for migraine pain relief orally, it will take around 45 to 60 mins to begin feeling the effects and the effects can last for hours. This is because CBD is slowly absorbed into the bloodstream through the digestive system. When you use topical CBD products formulated using CBD oil for migraine, you begin to feel quick localised relief in 10 to 15 minutes. But the effects won't last as long as oral consumption.
Some Common Doubts About The Use Of CBD Oil For Migraine Headaches
One of the most frequently asked questions about using CBD oil for pain relief is about its mind altering effects as it is produced from the hemp plant. However, CBD has no psychotropic effects when ingested. Moreover, even if there is 0.3% THC CBD oil, it does not cause a high. This is because, when CBD and THC are consumed together, CBD nullifies the psychotropic effect of THC, so its oral consumption is safe.
The other major doubt is regarding the side effects of cannabidiol and this varies from person to person. The side effects are diarrhoea, light-headedness, fatigue and change in appetite. Some people experience it mildly the first time they consume it and then it vanishes, while others don't experience it at all. Also, the severity of symptoms will be more if you overdose on CBD oil. Last but not least, you must ensure that you have no allergic reaction to it before consuming it.
Buying CBD Oil For Migraine Headache Relief
When buying CBD oil for migraine headaches, ensure that you are buying from reputed manufacturers. Moreover, products with the least amount of additives are better for oral consumption, this ensures that you get the maximum benefits. This is more important when it comes to CBD topical, the ingredients used can either enhance or diminish the CBD effects. The CBD concentration of the product has a significant effect on the analgesic effect of CBD oil for migraine.
These are some of the points that you should keep in mind when using CBD for migraine relief and it is a good alternative compared to the pharmaceutical painkillers.