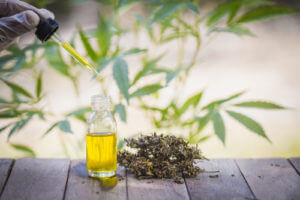 If you are looking to reap the benefits of CBD, you will likely run into not just CBD tinctures and oils, but also many other forms of CBD like CBD creams and other topical forms of CBD. Topical CBD products include CBD salves, lotions, and creams that can be applied to our skin.
CBD cream is a cream-based topical that is infused with CBD. Making your own CBD cream can let you have more precise dosing and control over the used CBD. For example, if you have a 50 millilitre CBD bottle with 2,000 milligrams of CBD, it equals 40 milligrams of CBD per millilitre.
These dosing parameters will let you find out the quantity of CBD that you should add to the topical or cream to make the amount of CBD cream that you need. It is also important to find out the most effective mixing ingredients that will mix well with CBD isolate or oil. Carrier oils like MCT oil, CBD isolate or tincture, and shea butter can be mixed to have a homemade CBD topical.
Making CBD Cream 
Many different recipes will let you make CBD cream of your choice. Out of the innumerable methods available, the most common and easy-to-follow method is shared below.
Begin by liquefying coconut oil and shea butter in a pan at about 100°F.
Once shea butter and coconut oil are melted, add the required amount of CBD tincture or oil to have your preferred dosage of CBD.
In a separate vessel, melt two ounces of beeswax.
The wax will start to melt around 145°F and at this time, you can add the CBD-infused oil that you have made.
Stir and heat the mixture and you may add more beeswax if necessary, until the mixture reaches the desired consistency.
You may add essential oils to the cream for consistency and aroma.
Cool the cream and store it in a container with a tight lid to avoid interaction with air. This will help prevent oxidation damage to the cream.
Your CBD cream is ready, apply the cream as needed.
All you need to do is to follow the above-shared steps carefully and enjoy the benefits of CBD. As the endocannabinoid system of each person is different, it might take a bit of trial and error to find the dosage of CBD cream that can be the most effective for you.